This article was originally published on our site Nomad Paradise. As part of a rebrand, we are publishing all our travel packing and tips content in one place for you to enjoy - The Travel Method. For world cuisine and recipes, you can keep visiting Nomad Paradise.
Use my ultimate business trip packing list to help you pack and plan with confidence for an upcoming business trip and hopefully pick up a few tips along the way.
For several years, I moved from country to country, speaking at conferences and organizing events, with everything from portable projectors to hard drives with invaluable data stored in my luggage. Trust me, I know how stressful it can be to travel for work!
This list not only draws on my personal experience but also these insightful business travel tips, which feature expert advice from 18 globetrotting entrepreneurs and business travelers.
Business Trip Packing List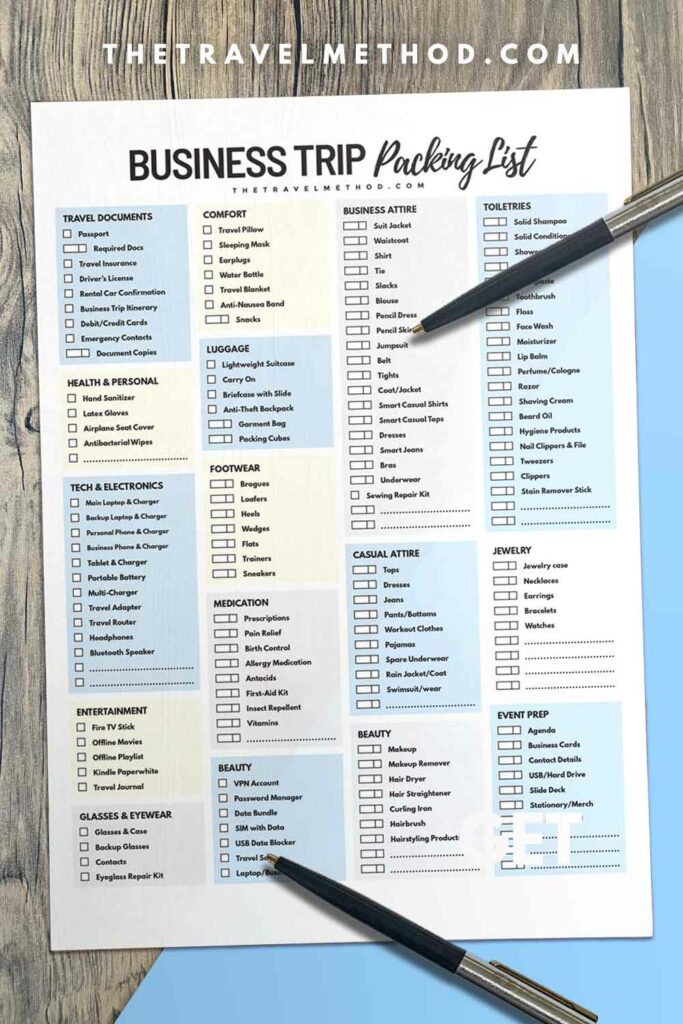 I've tried to leave no stone unturned with this mammoth packing list. Not all of it will be applicable to you, but it should help you consider everything you would need to pack and plan for.
It's also free to download. You can find the download link at the end of this article. Download the PDF, print it off, and use it to help you pack with confidence.
Oh, and whatever you're traveling for, be it a conference, keynote speaker event, or networking, the very best of luck!
Travel Documents
For both domestic and international travel, the same protocols, such as entering another country with your passport, still apply. Consider packing the following documents:
1. Passport
2. Required Documents
Depending on if you're visiting another country, be sure to do your research for visa and entry requirements. Keep these documents in a separate folder.
3. Travel Insurance
If you're leaving the country, no matter how short your trip, make sure you're covered.
4. Driver's License
5. Rental Car Confirmation
If you have rented a car, print off all the documents and have them on hand.
6. Business Trip Itinerary
From conference agendas to your personal travel schedule, make sure you have everything written down in a diary or folder. You could even use our travel binder to help you.
7. Debit and Credit Cards
If you do a lot of business travel, get yourself a credit card with a points or reward scheme. Take a look at our business travel tips article for advice.
8. Emergency Contacts
9. Document Copies
Keep photocopies of all key documents and have them in a folder, just in case you can't access your digital copies or lose the originals.
Health and Personal Care
Even if you're feeling energized and refreshed, your personal health should not be taken for granted. Particularly if you are traveling by plane, consider packing the following items.
10. Medication
No matter how short your business trip, always be prepared. If you take any prescription medication, naturally, make sure it is packed. You could also get yourself a small medication bag and consider packing the following (if applicable):
Pain Relief
Allergy Medication
Antacids
First-Aid Kit
Insect Repellent
Vitamins
If you are traveling abroad, double-check the rules for bringing medication into the country. There may be restrictions on the types of medication or quantity you can bring in.
11. Hand Sanitizer
It's always good to have hand sanitizer with you on the plane. You can use it before eating food or after going to the toilet.
12. Antibacterial Wipes
Antibacterial wipes are useful not just for the plane but also for airports, toilets, and even hotel rooms.
Tech and Electronics
There's a lot to consider here, especially if you're speaking or running an event or workshop. My attitude when traveling for work was it was already better to have my own equipment rather than rely on someone else.
I would even travel with my own HDMI cable and Macbook convertor because I lost count of the number of times I'd show up at a space and they wouldn't have the right tech. Pack accordingly, and consider the following items.
13. Main Laptop and Charger
14. Backup Laptop and Charger
You may struggle for space, but even an ultraportable laptop, tablet, or older laptop as a failsafe as a backup, just in case, will give you peace of mind in case your main laptop has an issue.
15. Business Phone and Charger
16. Personal Phone and Charger
17. Tablet and Charger
I found having a tablet always helped at conferences and speaking events. It can be used as an additional screen, a place to refer to your notes, or you can use it with projectors if your main laptop doesn't work.
18. Portable Battery
Both a lifesaver on long flights and at events where you may not have proximity or access to a power socket. Remember to charge it fully the night before you fly or go to your event. It works as a portable battery for both your laptop and your phone.
19. Multi-Charger
Traveling with a multi-charger was a real game-changer for me. It was not uncommon for me to have to charge three, four, or even five devices all at once when traveling for work. Having one unit to change everything from just makes life easier, especially in hotel rooms or at airport lounges.
20. Travel Adapter
An essential if you're traveling abroad, I would also recommend getting one that comes with a universal power strip.
21. Travel Router
Public wifi can often be hit or miss, especially in hotels. If you're willing to put the time in to set it up, a personal travel router can help strengthen your connection and give you your own access point.
22. Noise-Canceling Headphones
Whether it be for helping you sleep on a flight or getting focussed work down, both noise-canceling headphones and earbuds are a sound investment. I've had my Boise noise-canceling earbuds for years, and they still haven't let me down.
23. Bluetooth Speaker
You'd be amazed at how many rooms and events have an issue with sound when it comes to talks and workshop events. If you can provide your own source of sound that is already synced up to your device, you give yourself another failsafe.
Comfort
These items are not only suitable for plane travel but also for sleeping in hotel rooms and other accommodations. You never know how loud or uncomfortable a certain place or room may be.
24. Travel Pillow
25. Sleeping Mask
26. Earplugs
27. Collapsible Water Bottle
You can generally fill up your water bottle from water fountains for free at airports and bus stations.
28. Travel Blanket
29. Anti-Nausea Bands
30. Snack Pack
Snacks like nuts, protein bars, and chopped fruit are easy to travel with and can give you something to eat if there are no options around you.
Entertainment
For that time on the plane or evenings in the hotel room, once you're happy everything has been prepared, you'll need ways to relax and unwind. Make sure you have ways to entertain yourself, and consider the following.
31. Fire TV Stick
Most new hotel TVs now have HDMI and USB port access, meaning you can bring the likes of a Fire TV stick with you, plug it in, connect to the internet, and watch shows.
32. Pre-downloaded Offline Shows and Movies
33. Pre-Downloaded Offline Playlist
34. Kindle Paperwhite
35. Travel Journal
Glasses and Eyewear
If you wear glasses or contacts, make sure you pack the following items in your luggage.
36. Glasses with Case
37. Backup Pair of Glasses
38. Contact Lenses
39. Eyeglass Repair Kit
Luggage
How long your business trip is and the type of travel you'll be doing will generally determine how much luggage you will need. If you can get away with a carry-on and backpack or briefcase, try to travel lighter.
Sometimes, however, for international or longer trips, you will need a combination of a suitcase, carry-on, and other luggage to bring everything with you. Here are some considerations.
40. Lightweight Suitcase
How long you are going for will really depend on whether you need to bring checked luggage with you. When I traveled for business, I typically had a lot of expensive tech with me, so I had no choice but to bring a suitcase with me along with my backpack and carry-on.
If you have a lot to pack, or your business travel is more than a weekend or few days, definitely consider packing a lightweight suitcase that is easy to maneuver.
41. Carry On
The carry-on is so often the go-to for business travel. Many frequent business travelers vouch for packing lighter and trying to keep everything in their carry-on to save space and time.
42. Briefcase with Slide
A briefcase with a slide can be easily carried over your carry-on handle, keeping your other hand free.
43. Anti-Theft Backpack
Especially if you're traveling with a laptop and expensive tech, consider an anti-theft backpack to keep your valuables safe.
44. Garment Bag
If traveling with a suit or expensive dress, consider a garment bag to keep it protected and clean.
45. Packing Cubes
I never travel without packing cubes. While their ability to save space may be a myth, they are so good for organizing your luggage.
Conference/Meeting Clothing
Depending on the type of conference or event you're attending, you'll want to pack smart and appropriate clothing, especially if you're going to have an audience.
Also, consider the number of days the event or conference is and the number of certain items you'll need to pack. Some of these items of clothing and accessories can help give you ideas.
46. Suit Jacket
47. Waistcoat
48. Shirt
49. Tie
50. Slacks
51. Blouse
52. Pencil Dress
53. Pencil Skirt
54. Jumpsuit
55. Belt
56. Tights
57. Coat or Jacket
58. Underwear
59. Sewing Repair Kit
In case something rips or tears, it's always good to have a repair kit handy so that you can fix clothing from your accommodation or hotel room.
Networking/Dinner Clothing
Depending on the nature of the event, dinner or social gatherings will have a different vibe and dress code.
You may be able to wear what you have on during the day. However, consider packing some of the following, which may be more suitable for dinner, drinks, and informal gatherings. You may also want to change clothes between the business event and the evening event.
60. Smart Casual Shirt
61. Smart Casual Top
62. Dress
63. Slacks (or Jeans)
Downtime Clothing
Outside of business hours, you'll want to feel relaxed and comfortable at the hotel or in the city. Yes, put a lot of thought into your business or meeting attire, but also make sure to pack clothing for the evenings and in your downtime.
64. Tops
65. Casual Dresses
66. Jeans
67. Pants or Jogging Bottoms
68. Workout Clothes
69. Pajamas
70. Spare Underwear
71. Rain Jacket
72. Swimsuit/wear
If there's a pool at the hotel, you may want to go for a swim for some much-needed downtime.
Footwear
To go with both your business and casual attire, consider what footwear you would need to pack. You may be able to get away with one smart pair of shoes, or you may have to pack multiple pairs to work with different outfits.
73. Brogues
74. Loafers
75. Heels
76. Wedges
77. Flats
78. Trainers or Sneakers
Toiletries
If you're only traveling with a carry-on, you will need to limit the toiletries you travel with or make sure the toiletries you do travel with can come on the plane with you. Make sure liquids are packed into 3.4-ounce (100ml) bottles, and you will need to forgo accessories such as razors.
If you have a checked bag, you can travel with a large toiletries bag. It's important to look and feel your best for business meetings and events, so travel with all your essential and desired toiletries. That way, you can focus all your time on the job at hand.
79. Toiletries Bag/Case which could contain:
Solid Shampoo
Solid Conditioner
Shower Gel and/or Soap
Deodorant
Toothpaste
Toothbrush
Floss
Face Wash
Moisturizer
Lip Balm
Perfume/Cologne
Razor
Shaving Cream
Beard Oil
Feminine Hygiene Products
Nail Clippers and File
Tweezers
Clippers
Stain Remover Stick
Beauty
You should always look and feel your best self, no matter what your business trip entails. For both your hair and skin, consider packing the following in a separate pouch or weekender bag that you can put in your suitcase or carry on.
80. Makeup
81. Makeup Remover
82. Hair Dryer
83. Hair Straightener
84. Curling Iron
85. Hairbrush
86. Hairstyling Products
Jewelry
If you're planning to travel with jewelry, make sure you have a stylish and sturdy case to carry it in.
87. Jewelry Case to carry:
Necklaces
Earrings
Bracelets
Watches
Reward and Loyalty Schemes
If you frequently travel for business, you could be missing out on upgrades, hotel stays, and free flights if you're not a member of reward and loyalty programs. Consider the following:
88. Rewards Credit Card
Whether it's through your company or your own personal business, booking with a credit card with rewards and points will only make your business trips more comfortable and enjoyable.
In time, you can use your points and rewards to upgrade on flights, book hotel stays, and gain access to the likes of co-working memberships.
89. TSA Pre-Check, Clear, and Global Entry
Several of the business travelers I spoke to for our business travel tips article recommended the TSA pre-check, clear, and global entry membership for fast and efficient boarding and moving through airports.
90. Air Miles Membership
If you consistently fly with the same airplane or family of airlines, definitely sign up for a frequent flyer membership.
91. Lounge Pass
Airport lounges offer food, comfort, and lots of perks. If you fly for business frequently, have a look at these ways to get airport lounge access to see what the best option would be for you.
92. Co-Working Membership
Hotel wifi can be slow and hotels uncomfortable. If you need to get work done on your business trip, consider a co-working pass or membership that gives you access to multiple locations, such as WeWork.
93. Pre-Booked Access to Meeting Room
In addition to your co-working membership, be sure you have a quiet place booked that only you have access to for calls and meetings.
Event Prep
Naturally, only you are going to know what you need for your upcoming business trip. However, here are some classic items and essentials to consider taking with you.
94. Agenda
Have everything written down or documented beforehand, in a diary, on a separate sheet in a folder, or digitally recorded in your calendar.
95. Business Cards
It may be a little old school, but business cards are still a great way to pass on your information to start a conversation outside of the event.
96. Contact Details (Physical or Digital)
Nowadays, people will want to take your phone, email, or other details. Have something physical or digital ready to give to people when they ask.
97. USB Stick or Portable Hard Drive
Keep your files and important documents for the event both on your machine and on a separate stick or hard drive for easy access.
98. Powerpoint/Slide Deck/Presentation
Keep multiple copies of this on both your laptop and external devices. Also, double-check your connectivity and whether you have the right setup and cables.
99. Company Branded Stationary/Merch
If you are representing your company or a client, consider bringing stationary and merch with you to give to people.
100. Pen and Notepad
Digital and Security
Lastly, security, both physical and digital, should be a big consideration when traveling for business. Go that extra mile to protect yourself and give yourself a little more peace of mind.
101. VPN Account
Security is paramount when traveling for work, and using public wifis without protection can be very risky. To this day, I still use Express VPN to give me protection when working from coffee shops, hotels, and co-working spaces abroad.
102. Password Manager
103. Data Bundle from Phone Provider
Check with your provider how much data you have with your monthly contract. You may need to use your phone as a hotspot if the wifi is weak or not accessible.
104. SIM with Pre-Loaded Data
If you're traveling abroad and your provider isn't giving you a good deal, consider buying a SIM with data in the place you are traveling to.
105. USB Data Blocker
When using public USB ports for charging, such as in airports, use a data blocker like this one for USB Type A or this one for USB Type C to stop potential downloads of your data.
106. Travel Safe
For keys, flash drives, credit cards, and other smaller valuables, you could travel with a portable safe.
107. Contents and Business Insurance
Double-check what your travel or business insurance covers you for when working away from home, and if required, change your policy accordingly.
Download PDF Checklist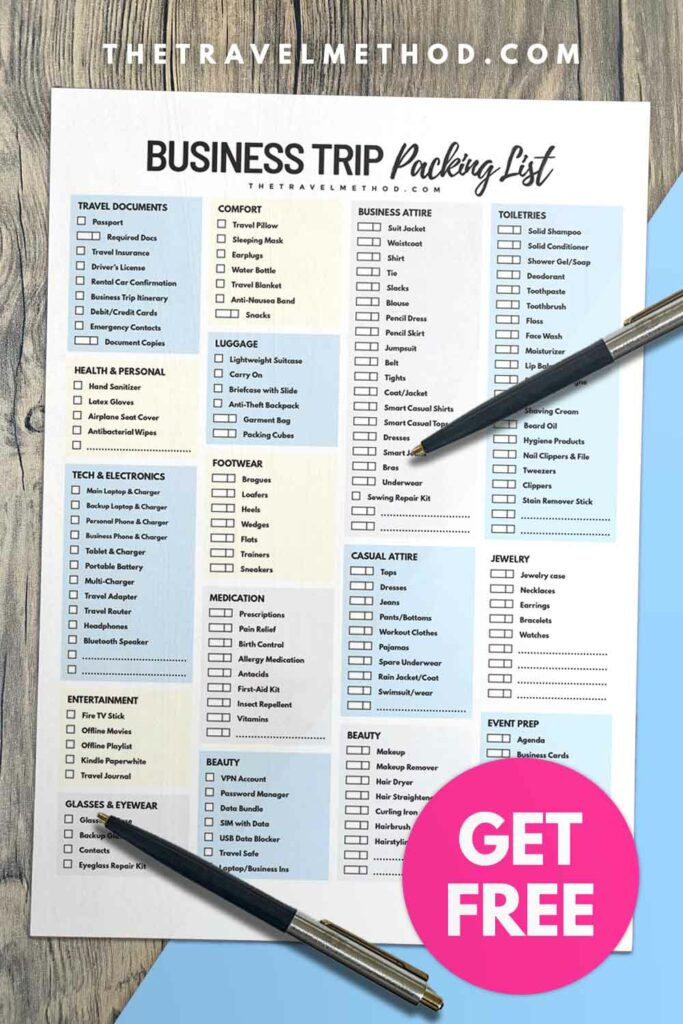 Naturally, not everything in this list will be applicable to you. What I wanted to do, however, was try to bring absolutely all considerations to the table so that you can think of everything before you pack.
Feel free to download my free packing list using the link below. From there, you can print off the PDF, cross out the items you don't need, and start planning your trip with confidence.
I really hope you find this list helpful. It draws on the insight from just under 20 different business travelers, so there's a wealth of knowledge and experience that has gone into curating this list.
You Might Also Like to Read
Save and Pin for Later
Going on a business trip soon? Keep my packing list for safekeeping by saving it to one of your trip planning boards.