This article was originally published on our site Nomad Paradise. As part of a rebrand, we are publishing all our travel packing and tips content in one place for you to enjoy - The Travel Method. For world cuisine and recipes, you can keep visiting Nomad Paradise.
Grace the sun-kissed cobbles and golden beaches of Italy with confidence and style by using our Italy packing list to make sure you pack everything you need for your trip, from essential items to fashionable attire.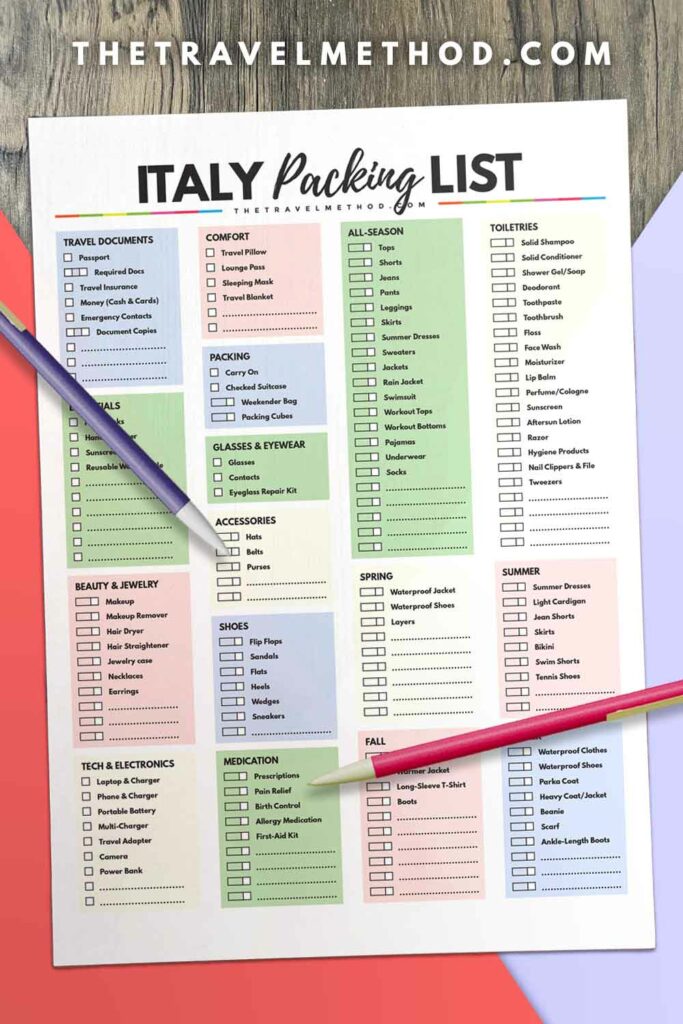 If you want to download our free Italy packing checklist PDF, read to the end of this article and click the download link to get this comprehensive list, which has plenty of space to add your own items.
Essentials to Pack
Travel documents
It should go without saying, but when visiting Italy, don't forget any of your travel documents.
Travel Insurance
Before your trip, be sure to get travel insurance. Make sure you know what is covered by your travel insurance so you don't have any surprises in case of need.
Chargers
Don't forget to bring chargers for all your devices, including your phone, laptop, tablet, or power bank. You will be able to buy one in case of an emergency, but it's always better to have your original charger to avoid wasting precious time you could spend sightseeing or eating a delicious pizza!
Power bank
Don't forget to always have a portable battery with you. Disconnecting is great, but you don't want to find yourself in the middle of the night walking around Rome or Naples with no idea of how to get back to your hotel because your phone battery has died.
Locals can help you out, but it's always safer to have your phone so you can check your map.
Adapter
Depending on where you are traveling from, you may need a power adapter. Plugs in Italy are different from those in the UK, the US, and other countries outside Europe. Buy a universal adapter that you can carry with you wherever you go; this way, you won't need to worry about it in every new country you visit.
Medicine
If you need to take any medicine, make sure to pack enough for the whole trip. You may not be able to find the same medicine in Italy, or you may have an emergency. Plan accordingly by packing any medicine you may need or anything you must take regularly, such as birth control.
Cards & Cash
Bring your preferred credit and/or debit card that you can use to pay in most places or to withdraw money. However, keep in mind that on some occasions, you will need cash. If possible, avoid withdrawing or exchanging money at the airport, as the exchange rate is usually not very convenient.
Related: How to Get the Best Exchange Rate While Traveling
As for withdrawals, opt for bank ATMs rather than the machines you can find in train stations, airports, or outside some stores.
These tend to charge higher fees than ATMs that belong to banks. Some of the most common banks are Unicredit, Intesa San Paolo, and Monte dei Paschi di Siena.
As soon as possible, break a large bill so you can have some change. You may need coins or smaller banknotes for bus tickets, toilets, or even just for a coffee in a remote bar that doesn't take cards. It's rare, but it can happen.
Reusable water bottle
Avoid buying bottled water when in Italy. Aside from the fact that tap water is generally safe to drink all over the country, you will also find several fountains in most cities.
Rome, for instance, has thousands of "nasoni," the typical water fountains that you won't find anywhere else. Bring a reusable water bottle so you can always fill it up at your hotel or on the go.
Hand sanitizer
You'll find hand sanitizer in virtually all stores, supermarkets, and restaurants, but be sure to pack a travel-sized bottle, just in case.
Sunscreen
Particularly during the warmer seasons, from late spring to the beginning of autumn, make sure you wear sunscreen.
You'll likely walk around for many hours a day, and Italy is known for being very hot, so make sure you protect yourself. Sunscreen is another thing you'll easily find in most supermarkets and pharmacies, but it doesn't hurt to come prepared.
What to Wear in Italy
Essentials for any season
Italians tend to dress casually during the day and a little more elegant for nights out. There's no need to overdress, but if you want to avoid standing out too much, bring a couple of fancier items. Just don't forget to keep it simple and classy.
While Italians are known for being fashionable, in their daily life, they keep things quite minimal. Choose matching colors, avoid oversized or baggy clothes, and leave out the white socks! Also, flip-flops are only for the beach!
Activewear is for sports, not for sightseeing. Unless you go running or hiking, leave your sweatpants at home. For your day outfit, you can't go wrong with a pair of jeans – as long as you avoid baggy jeans – and some basic T-shirts. Wear a sweater or a nice pullover for colder days, and bring a jean jacket or a leather jacket.
If you plan on going out at night, a button-up shirt is a great idea for men, while ladies can wear a simple dress or a pair of jeans with a stylish top. If you have the chance to go to a club, keep in mind that some of them do have a dress code. They may not let you in if you're wearing torn jeans and sneakers.
If you plan on visiting churches, avoid wearing shorts and tank tops. Apart from that, there are no specific rules. Dress in your style and pay attention to the weather depending on the season and part of Italy you will visit. But whatever you do, please do not wear socks with sandals!
Spring
Spring in Italy can be very warm or very cold, with big variations between night and day. If you're traveling anytime between March and May, dress in layers so you can remove some in the middle of the day and avoid freezing at night. The weather can also vary greatly between north and south, and especially in the early spring months, the north can still be quite cold, while in the south, you may even find beach weather.
Bring a jacket for the evening or colder days, ideally waterproof, and ensure you have a pair of waterproof shoes. Sneakers are a good idea for spring. If you're searching for trending sneakers, think Nike Air Force or Adidas Stan Smith.
For your everyday outfit, jeans are your best choice! Pair them with a t-shirt and a sweatshirt, and you're good to go!
Summer
Summers in Italy can be very hot, especially in the south and in big cities like Rome or Milan. Choose breathable fabrics and light colors.
Summer dresses are ideal for women, although you may wear jean shorts or a skirt and a top. Just remember not to wear them when visiting the Vatican or other major churches. As for the shoes, wear light tennis shoes like Converse or Superga, or opt for sandals.
For men, they do wear shorts, despite what you may have heard. Just keep them knee-length, and don't wear them with flip-flops. While sandals for men are not at all common in Italy, some people prefer open shoes. Birkenstocks are quite popular for both men and women.
For the most part, the nights are quite warm, and you'll rarely need a jacket. A long-sleeved t-shirt, a light cardigan, or a casual blazer are good options for chilly evenings.
As for the beach, women can rarely go wrong with any kind of bikini or swimsuit. As for men, choose swim shorts rather than briefs.
Autumn/Fall
Autumns in Italy can be quite warm, but often rainy. Temperatures are quite high until late October or even November in most parts of the country. Layers are a good idea, as are waterproof clothes and shoes. Dress pretty much as you would for spring, but bring some warmer sweaters and a warmer jacket.
You can choose between sneakers or boots, depending on how cold it gets. Women tend to wear ankle-length boots, while men often wear suede or leather chukka boots.
Jeans are a great choice in autumn, paired with a long-sleeved t-shirt or a sweater. Leather jackets are popular in Italy in the colder seasons, but if it's not raining you may also opt for a jean jacket.
Winter
Italian winters are usually mild and rainy. Snow is common in the northern regions, but for the most part, it's quite warm and humid. Waterproof clothes and shoes are a must during this season, and you may want to pack a warmer jacket. While temperatures may not be very low, the humidity makes it feel much colder.
Parka coats, such as the Woolrich coats, are common for both men and women. For shoes, ankle-length boots like Dr. Martens or similar brands are popular for both women and men. Knee-length women's boots are also common.
Don't forget the jeans and simple, casual sweaters. A button-up shirt under the sweater is a great option for a night out. For colder days, bring a simple beanie and a warm scarf.
If you plan on visiting the Italian Alps, pack warmer clothes as it can get very cold, and it will likely snow.
Italy Packing Tips
Choose your luggage wisely
If you're wondering whether you should bring a trolley bag or a backpack, if possible, opt for the latter. Especially if you plan on moving around Italy, a backpack is much more practical, not to mention that it will help you avoid overpacking.
You don't want to be dragging a suitcase on the sanpietrini (pebblestones) in Rome's Trastevere neighborhood, up the narrow stairways in Positano, or across Venice's hundreds of bridges. In fact, Venice at one point even considered banning all-wheeled suitcases!
Although that didn't become a reality, you'll be better off carrying a 40L backpack than dragging around a suitcase. It will make your life easier on trains and public transportation and in general for moving around.
Bring a day bag or weekender bag
Although a backpack is a great idea as your main luggage, don't forget to bring a smaller backpack or another type of day bag.
You don't want to carry your entire luggage with you every time you go out, but at the same time, you should have a bag big enough to carry the essentials and maybe pack a lunch.
Leave the fanny pack at home
There's nothing wrong with looking like a tourist, but wearing a fanny pack in Italy is the best way to stand out like a foreigner.
If you want to blend in a little, avoid bringing your fanny pack. If you really must, try choosing a stylish pack.
Different regions, different weather 
Pack according to the regions you'll be visiting on your Italy trip. The weather can vary a lot from north to south, especially in spring and autumn. Everything north of Florence tends to be colder, while from Rome south, it's usually warmer.
The weather can be unusually warm in the south, even in colder seasons, especially in Sicily. It's not weird to go swimming in October or March.
Leave some space in your luggage
When packing your bag, don't forget to leave some space for anything you may end up buying during your trip. You may or may not be a big souvenir person, but you'll certainly buy something in Italy.
Whether it's a pack of homemade pasta in Bari Vecchia, a bottle of limoncello from the Amalfi coast, or a carnival mask from Venice, you'll nearly always end up bringing something back.
Don't overpack
It's one thing to be prepared for different occasions and another one to overpack. You're going to Italy, not to a remote place with no stores. If you realize you are missing something, you can always buy it.
Rather than filling a big suitcase with lots of just-in-case items, travel lightly so you can enjoy more of the country and stress less about carrying around heavy bags.
---
Italy is a country that has so much to offer, and you'll no doubt have a truly memorable time on your upcoming vacation or lengthy adventure.
But as with any country, a little forward-thinking and planning can go a long way to assuring your time there goes smoothly. While Italy is a developed country, there are still plenty of things you should know and plan for before you travel.
Use our packing list and tips to help you leave no stone unturned. That way, you can plan, prepare, and do the groundwork beforehand, leaving you with plenty of time and energy to make the most of this wonderful country.
Feel free to download our free Italy packing list PDF below so that you account for everything you need and leave no essentials behind.
You Might Also Like to Read
Save and Pin for Later
Planning a trip to Italy soon? Keep this packing list for safekeeping, by saving this article to one of your travel planning Pinterest boards.