This article was originally published on our site Nomad Paradise. As part of a rebrand, we are publishing all our travel packing and tips content in one place for you to enjoy - The Travel Method. For world cuisine and recipes, you can keep visiting Nomad Paradise.
Looking for a packing list to help you leave no stone unturned when it comes to planning your upcoming retreat or adventure? Then you, my dear friend, have come to the right place!
My wife and I were full-time travelers for several years, and it was not uncommon for us to be in the cold Peruvian mountains one weekend and on a searing hot Balinese beach the other.
We have published many packing lists and travel tip articles over the years, drawing on our own knowledge and insight from locals. The idea behind this resource is to put those lists and tips in one place so that you can choose a packing list that is just right for the type of trip you're going on.
All of our featured packing lists are free to download and can help you plan trips of all types with confidence.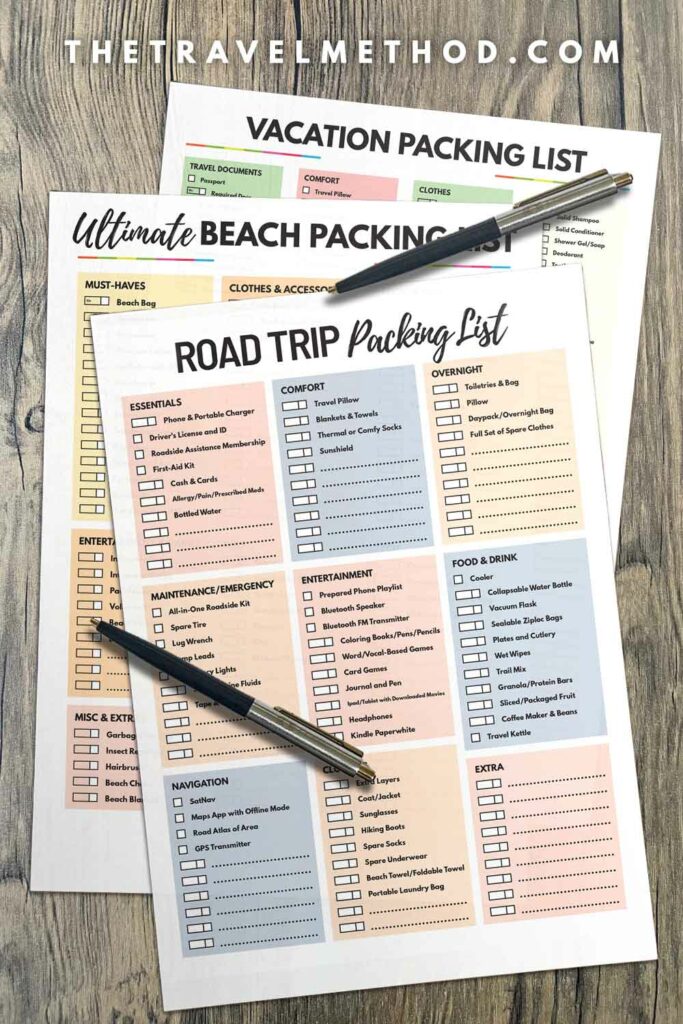 Packing Lists by Trip Type
Vacation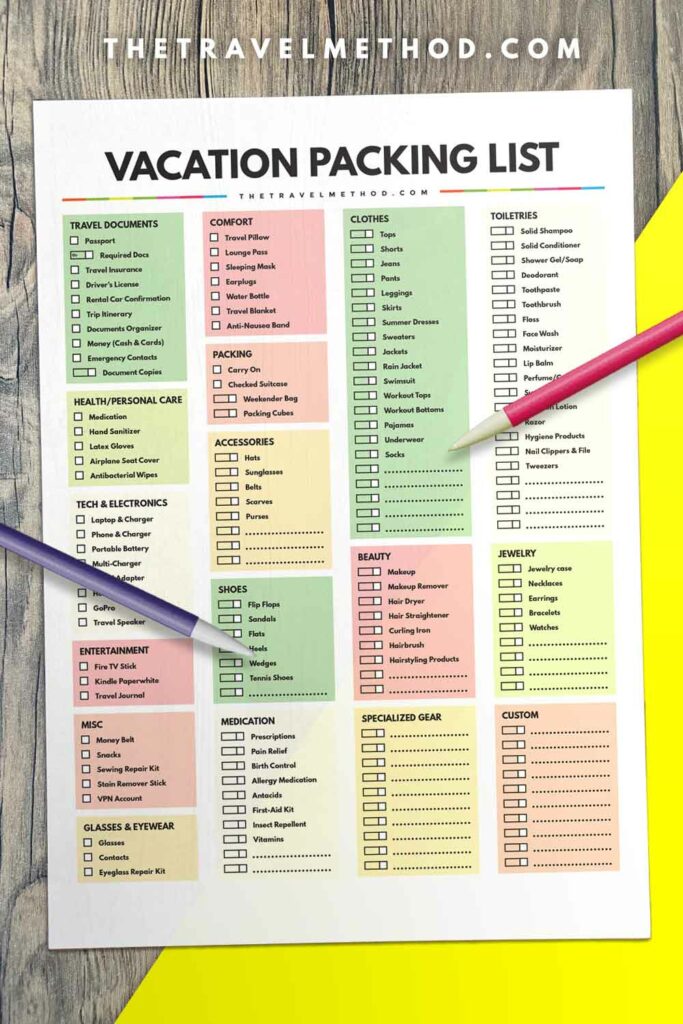 Our summer vacation packing list is an excellent place to start. If you're planning a trip somewhere nice and warm, and not planning to do any specialist activities, this is the list for you.
My wife and I refer to this list when we're planning city breaks, resort stays, or going to hot locations. It's very comfort-driven, designed for airplane travel, and aimed at your classic summer holiday.
Go to: Summer Vacation Packing List (with Free PDF Printable Checklist)
Weekend Getaway
If you're going away for a weekend, or maybe a few days, our weekend getaway packing list is a worthy companion to help you pack.
It's designed for both domestic or short-haul flights, or if you're traveling on the ground, say by car or train. The idea of it is to help you pack to cover comfort and essentials, with clothing options, while not overpacking as you'll only be gone for 2-3 days, per se.
Go to: Weekend Packing List (with Free PDF Printable Checklist)
Road Trip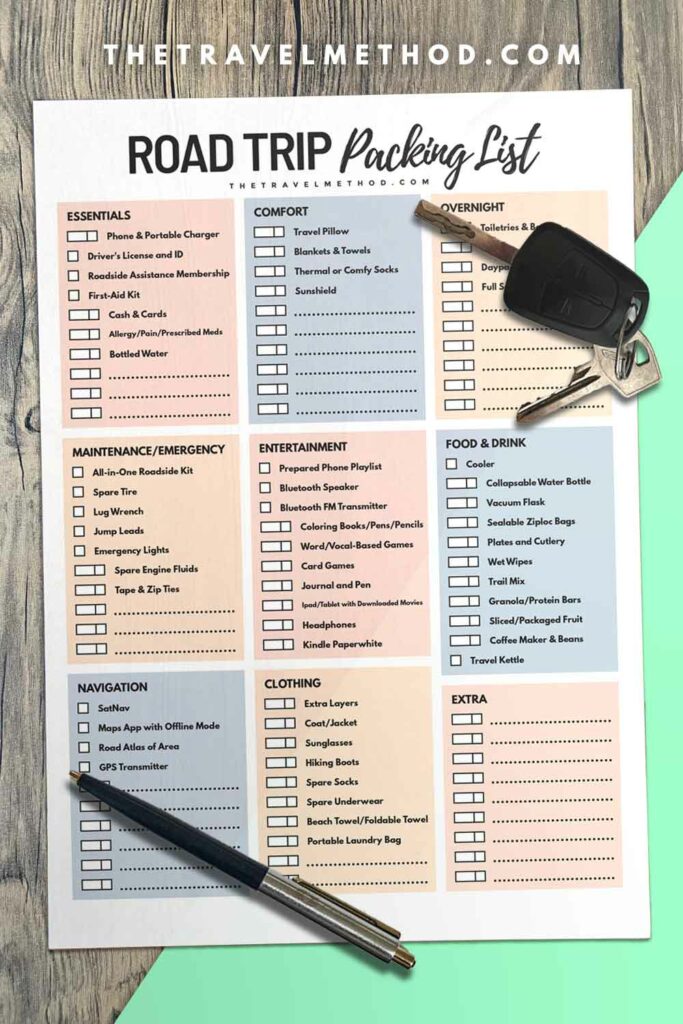 My wife and I have been on some epic road trips in our time, including in the US, the UK, and continental Europe. I can with confidence say that the most enjoyable road trips are the ones you plan and pack well for, and not just hit the road and wing it.
Our road trip packing list puts a good amount of focus on safety and car maintenance. Simple things like having the equipment to change a flat tire can make all the difference and can mean you're back on the road within the hour, not having to cancel the whole trip.
This list is good for day trips or overnight stays in hotels or accommodations with parking. If you're planning to go camping, however, I would definitely take a look at our camping gear list. This will help you pack the right equipment for a safe and comfortable camping trip, which you can use alongside our road trip packing list.
Go to: Road Trip Packing List (with Free PDF Printable Checklist)
Beach Day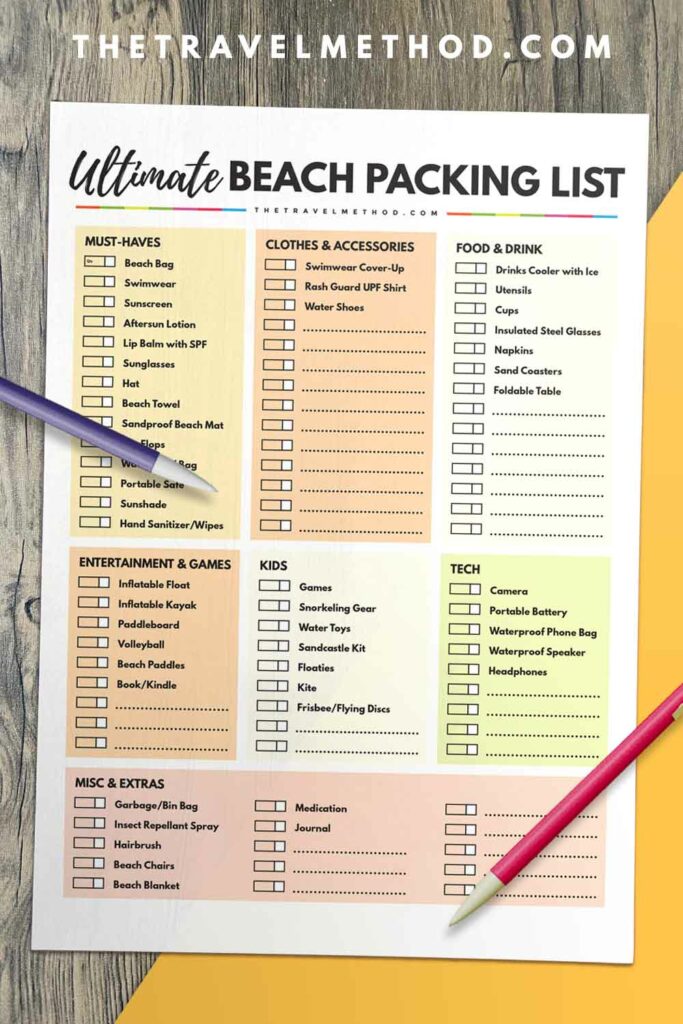 The beach can actually be a really uncomfortable place if you don't pack accordingly.
How many times have you, or someone you know, got sunburned, got sand in the car, or ended up drinking hot soda and overpriced food at the beach? Too many times to count, right?
Our beach packing list aims to help you pack everything you need for a safe, comfortable, and enjoyable day at the beach. It's only a packing list for an afternoon or day, so if you're going on a beach vacation, pair it with our summer vacation packing list.
Go to: Beach Packing List (with Free PDF Printable Checklist)
Ski Trip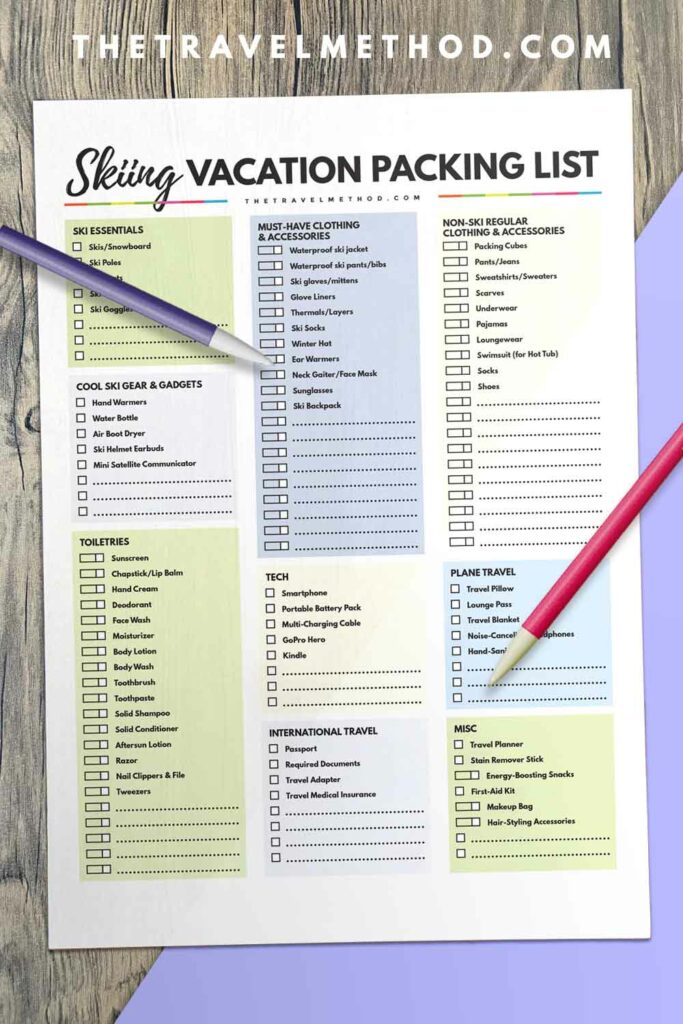 Going skiing is an adventure like no other. However, especially if it's your first time, packing for a skiing trip can be really overwhelming.
Our ski packing list covers both essentials for a multi-night stay, such as clothing and warm accessories, and the essentials you need to go skiing. Practically all ski resorts will allow you to rent equipment, so if you're not bringing your own, you can use this list for guidance as to what you'll need to wear.
Go to: Ski Trip Packing List (with Free PDF Printable Checklist)
Business Trip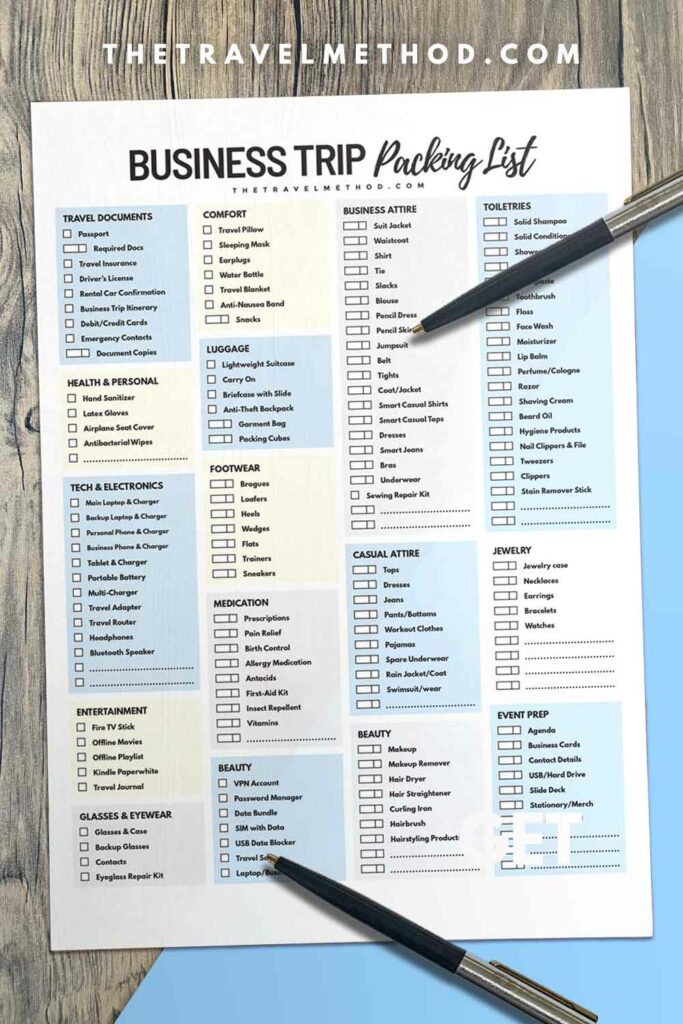 If you're packing for a business trip, use my list to help you leave no stone unturned. When it comes to business, you'll need to consider a suitable attire, your work equipment, and the nature of the trip.
You'll always want to leave space for your personal clothing and comfort. If you need to travel with a suit or smart dress, a garment bag is worth considering too.
Go to: Business Packing List (with Free PDF Checklist)
Destination-Specific Packing Lists
Italy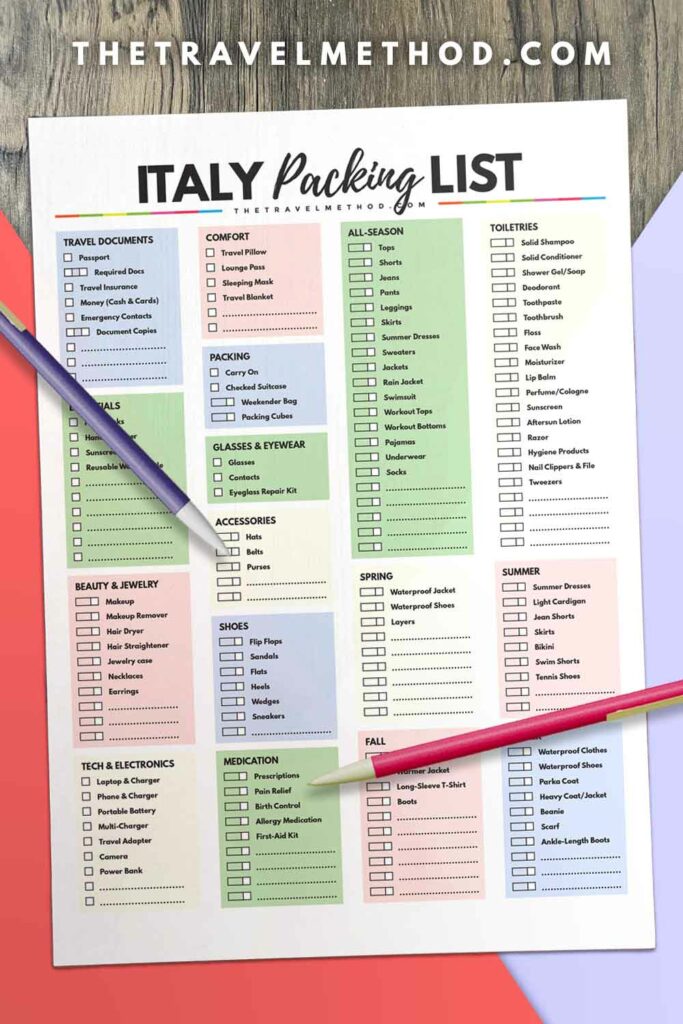 We've both had some memorable trips to Italy, and, while the weather isn't too extreme in Italy compared to the likes of, say, Southeast Asia, there's still plenty of diversity.
Roxana, a travel writer who has lived in Italy for over twenty years, helped us put this list together. She also offers seasonal clothing suggestions, advice on the geography of Italy, and other packing and travel tips to consider in Italy in the article.
Go to: Italy Packing List and Tips (with Free PDF Printable Checklist)
Mexico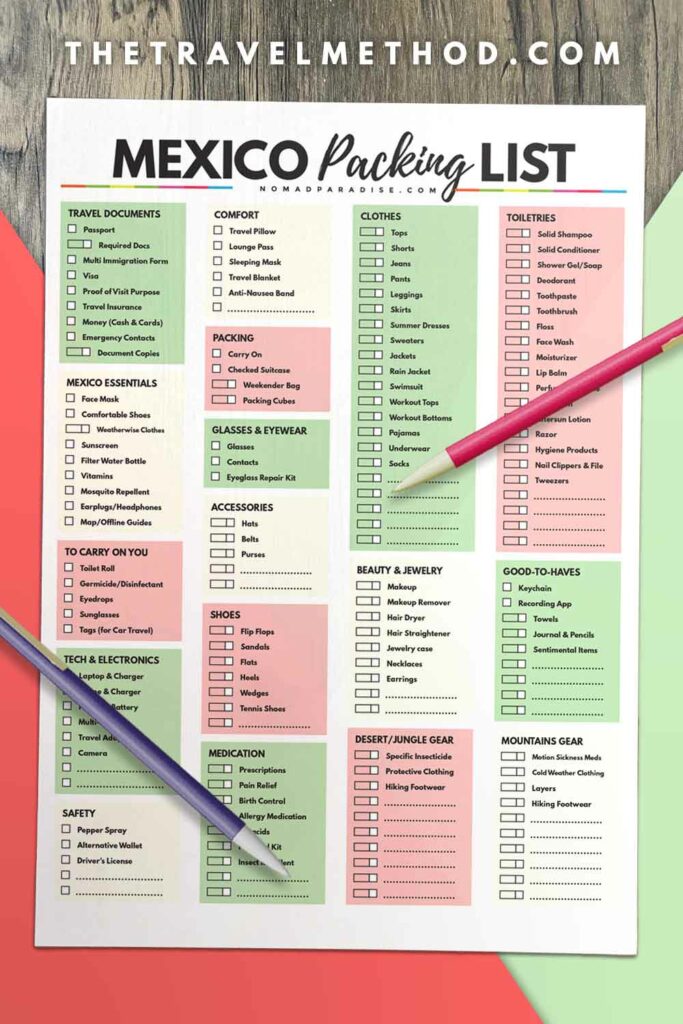 So many travelers can vouch for the magic of visiting Mexico. However, it is really important to do thorough research into the places you are planning to visit, and what the climate will be like.
Ana, a Mexican editor who has worked in the travel industry, helped us curate both this packing list and our packing tips guide. It helps you pack for arriving in Mexico, different geographical regions, general safety, and how to deal with the hot weather.
Go to: Mexico Packing List and Tips (with Free PDF Printable Checklist)
India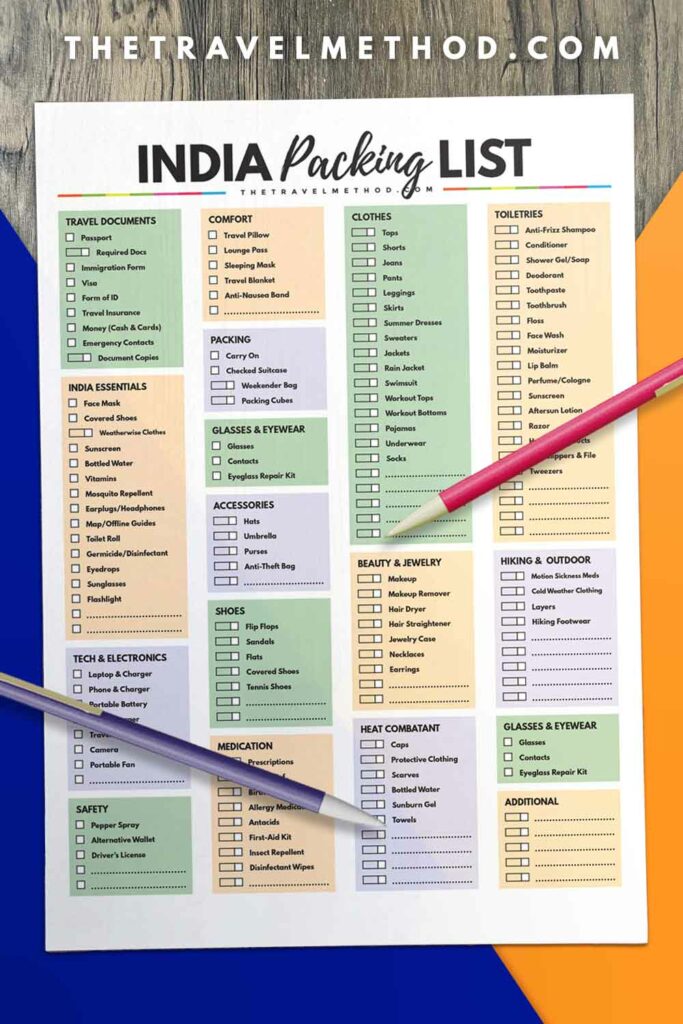 India really is one of those bucket list destinations, like, say, Japan, where for non-locals, the experience is just truly unique.
However, especially for first-timers, the culture, climate, and energy of India can be really overwhelming if you're going in unprepared.
Nandhini, an Indian content writer, helped us design this packing list. It covers entering the country, combating the heat, staying safe, and other considerations when visiting India.
I would also suggest having a read of our India travel tips rundown, too, which gives some valuable insight into what to expect, customs, culture, and how to stay safe.
Any other countries you plan to travel to and would like a packing list for? Let us know in the comments what places you would like to see.
Go to: India Packing List and Tips (with Free PDF Printable Checklist)
Packing Gear and Tips
Use Packing Cubes
Packing cubes really are a game changer. While the idea that they save space is still contested, what packing cubes do so well is help you organize everything you need to pack.
Best Packing Tips and Hacks
Our packing tips and hacks guide draws on over a decade of experience traveling to different countries, with several years of that traveling full-time.
It may open your eyes to packing smarter, faster, and more efficiently. If you're already a confident packer, you may pick up a nugget of gold here or there. Either way, it's definitely worth a deeper look.
More Packing Advice
Take a look at some of our most popular packing articles for advice on technique, gear, and things to consider when packing for all types of trips.
---
Packing lists really can make the difference between a fun, comfortable trip, and one that ends up being rife with frustration and expensive purchases. Trust me, both my wife and I have been there!
The way I see it is that packing is something you have to do, no matter where you're going. No one shows up for a week or a two-week vacation with absolutely no luggage at all (but if you do spot someone doing this, please let us know!)
Therefore, you might as well take that little extra time to make sure you've covered all bases and packed everything to make your trip as comfortable and safe as possible, covering more than one scenario.
Our packing lists have been curated from the experience of years' worth of full-time travel, and with local insight. We've done plenty of the leg work for you, so you can simply print them off and use them to help you pack.
You Might Also Like to Read
Save and Pin for Later
Keep our packing list collection for safekeeping, ready for all types of future trip, by saving this article to one of your travel Pinterest boards.