This article was originally published on our site Nomad Paradise. As part of a rebrand, we are publishing all our travel packing and tips content in one place for you to enjoy - The Travel Method. For world cuisine and recipes, you can keep visiting Nomad Paradise.
Packing bras can be a difficult task. Making them fit in the suitcase while preserving their shape can seem like an impossible task.
Luckily, help is at hand. If you're keen to know how to pack bras for travel, these ten smart tips will help you pack them in a way that saves both space and your bras' shape.
With a little creativity and know-how, you can confidently pack before your big trip, freeing you up to enjoy your vacation in style and comfort.
How to Pack Bras for Travel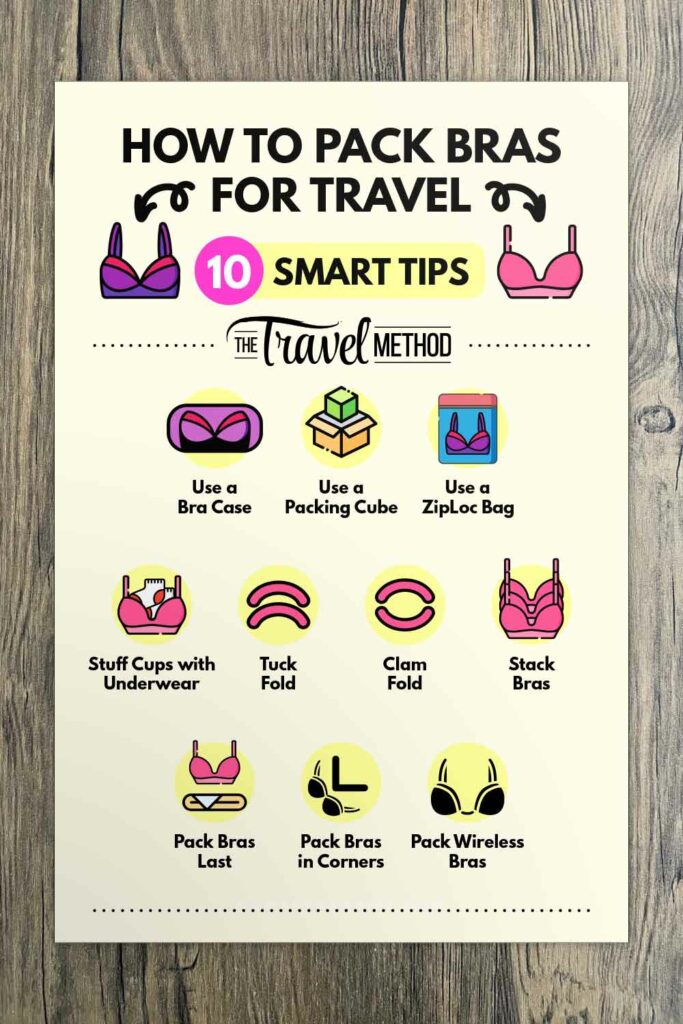 1. Use a Bra Case
Travel bar cases, or cup cases, are designed specifically to hold bras. This way, you keep them organized, but, more importantly, protected.
If you're traveling with expensive bras, this could be a sound investment.
Naturally, a cup case will take up a little more room in your luggage. But it's a worthwhile trade-off to keep expensive bras safe and protected.
Bra cases come in a wide range of colors and designs. Their padded interiors will give you peace of mind when packing bras.
2. Use a Packing Cube
Packing cubes are superb at organizing your clothes within your suitcase. Plus, they give you a little extra protection.
If you use packing cubes, you can designate one of your cubes solely for bras and underwear.
3. Use a Ziploc Bag
If you don't want to invest in new packing gear, you can get resourceful by using things around your home.
Ziploc bags have long been used by savvy travelers when it comes to packing clothes.
Packing your bras with a little air in the bag creates another layer of protection. Plus, Ziploc bags are inexpensive and even easier to pack.
4. Stuff the Cups with Socks & Underwear
You should try to approach packing like a game of Tetris. Try to ensure all space is filled and there are no gaps.
Naturally, bra cups are convex in shape. This means that, when packed, there will be space between the top and bottom edge of each cup.
Fill this space with rolled-up underwear. Not only will this free up space, but it will also help keep the bra's shape if it starts becoming squished.
5. Tuck Fold the Cups
The first folding method you could try is the tuck fold. Simply pinch the middle of the bra, then twist and tuck one cup into the other.
You can stack multiple bras this way. Stuffing the bottom cup with underwear and socks will help it keep its shape.
As you are twisting the bra, this method divides opinion. If you're packing expensive bras, you may want to try stacking instead.
6. Clam Fold the Cups
The second folding method you could try is the clam fold. Simply, fold one cup over until the edges touch the opposing cup.
You will now have a clam-like shape. Inside, you can again stuff underwear and socks to help them keep their shape.
Clam-folded bras won't stack, but you could line the edges of your suitcase with the spheres to utilize space.
7. Stack Your Bras
If you're uncomfortable folding your bras, you could try simply stacking them.
Line up all your bras, and stack them in one tower. Inside the bottom cups, stuff some underwear and socks to give the stack some stability.
You can neatly place this stack inside your suitcase, and pad around it with light clothes for an extra buffer of protection.
8. Pack Bras Last
The closer to the bottom of your suitcase your bras are, the more weight that will be on top of them. This means the likelihood of them squishing and losing shape is higher.
So, pack all of your other clothes first, then place your bras on top. The front of most suitcases is padded with pockets, giving an extra layer of protection.
You could sandwich your bras by placing one final layer of clothing on top for another layer to absorb any bumps.
9. Pack Bras Around Corners
Folding bras into an L shape, rather than completely in half, is less likely to cause any structural damage.
Once folded into an L shape, you can then pack your bras into or around corners. The corners of your suitcase give you room for four bras.
You could then pack your bras around the corners of packing cubes. This method helps utilize far more space in your luggage, as the bras are wrapped around the shape of other items.
10. Pack Wireless Bras
I appreciate that, for many women, bra support is vital to stopping backache and pain. But, if you can prioritize comfort, wire-free bras could be an excellent investment.
Naturally, wireless bras are easier to pack. And they're less likely to lose their shape packed tightly into a loaded suitcase.
You could even get a set of wireless bras just for travel. That way, you can leave more of your expensive bras at home.
Other Considerations and Tips for Packing Bras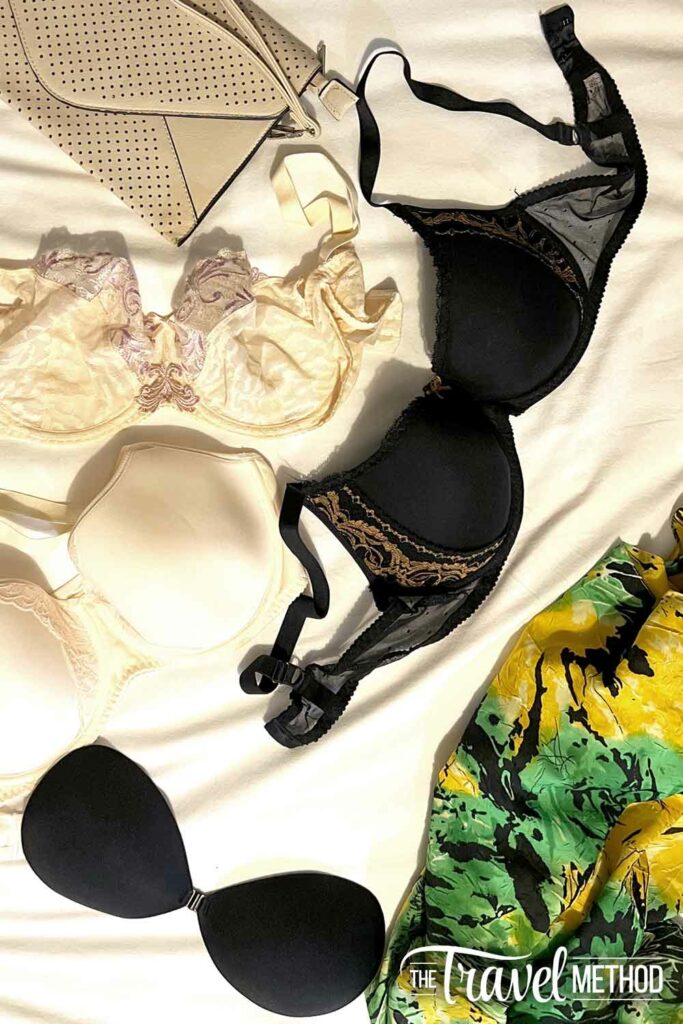 Try to travel with fewer bras
Often, when we're packing, the urge to just throw as many clothes and items into our luggage is overwhelming. It usually feels like it's better to have too much luggage than too little.
Think about your vacation plans. Write down the activities you intend to do and what your days will look like. You could use a travel binder to plan it all.
That way, you can start to select attire for certain days and activities. If you summon your inner Marie Kondo, you may find you can travel with fewer bras.
This is particularly true with beach or pool holidays. You'll find most of your days will be spent lounging by the water in a bikini.
Many AirBnBs have washing machines, and most hotels have laundry services. So, you could always travel with fewer bras and wash them if need be.
Try not to travel with too many expensive bras
If you need certain bras for support, that's totally understandable. But if some of your bras are more for style than support, it may be worth keeping them at home.
You could get an inexpensive set of comfortable bras just for your vacation. Or, you could invest in a sports bra or convertible bra, which, if damaged, you wouldn't be too worried about.
There's always a risk of damage to clothes and items once you pack them in a suitcase. So ask yourself if you really need to bring all your expensive bras with you.
Maybe pack just one or two for those 'get dressed up' evenings. But if you intend to spend time at the beach, the pool, or lounging around, you won't need to be wearing your fanciest, most expensive bras all the time.
Prioritize comfort over style
Traveling is fun, but it's not the most comfortable. You'll spend hours on planes, in taxis, and on foot.
Many people prioritize comfort when it comes to traveling. This is why you'll commonly see people wear lighter, baggier clothes on planes.
In hot, uncomfortable situations, the last thing you want to be wearing is a bra that's less about comfort.
Packing a sports bra is always a good idea. You may want to work out, do yoga, or just wear something far more comfortable on buses and planes.
Consider the temperature of your destination
In places as hot as Bali, walking through the tropical forests in glamorous dresses and stylish bras is probably not a good idea.
In such high heat, you want to try and make yourself as comfortable as possible.
In very hot places, wearing certain bras could be very uncomfortable. So consider bras with moisture-wicking fabric or convertible bras that suit many outfits.
Particularly at beach resorts or in Southeast Asian islands, it's so hot people wear looser clothes anyway. So don't be afraid to pack lighter, simpler clothes.
How to Pack Bras for Travel Summary
Packing is all about problem-solving. Items of all shapes and sizes can fit into your suitcase with a little creativity and planning.
Our ten smart methods, tips, and other considerations will go a long way to helping you pack your bras without causing damage to them.
That way, you can enjoy your vacation in comfort and style without having to spend a small fortune replacing all your expensive bras.
You Might Also Like to Read
Save and Pin for Later
Want to keep these smart tips for packing your bras in a place where you can easily find them? Save this article to one of your Pinterest boards for safekeeping.